Budgeting, Planning & Forecasting
Enhancing strategic management capabilities, effective monitoring and evaluation, efficient use of corporate resources, effective management of operational risks, and effective promotion of open source and cost reduction.
Make better decisions faster with CCH Tagetik Budgeting, Planning, and Forecasting software
Budget forecasting reflects the financial planning of all production and operational activities of a company for a specific future period. With the aim of achieving the company's target profit, it starts with sales forecasts and goes on to forecast production, costs and cash receipts and payments, and prepares a predicted profit and loss statement, predicted cash flow and predicted balance sheet, reflecting the financial position and operating results of the company in the future period.
The CCH Tagetik budget forecasting solution enables company-wide financial and operational business alignment by unifying all plans, processes and data in a solution designed specifically for finance, and creating holistic business plans for all industries and sectors. CCH Tagetik, powered by the Analytical Information Centre, goes beyond the traditional planning approach. It improves budgeting and planning by aggregating detailed financial and operational data to align plans more frequently and in greater depth, while supporting driver-based modelling and translating into actionable information.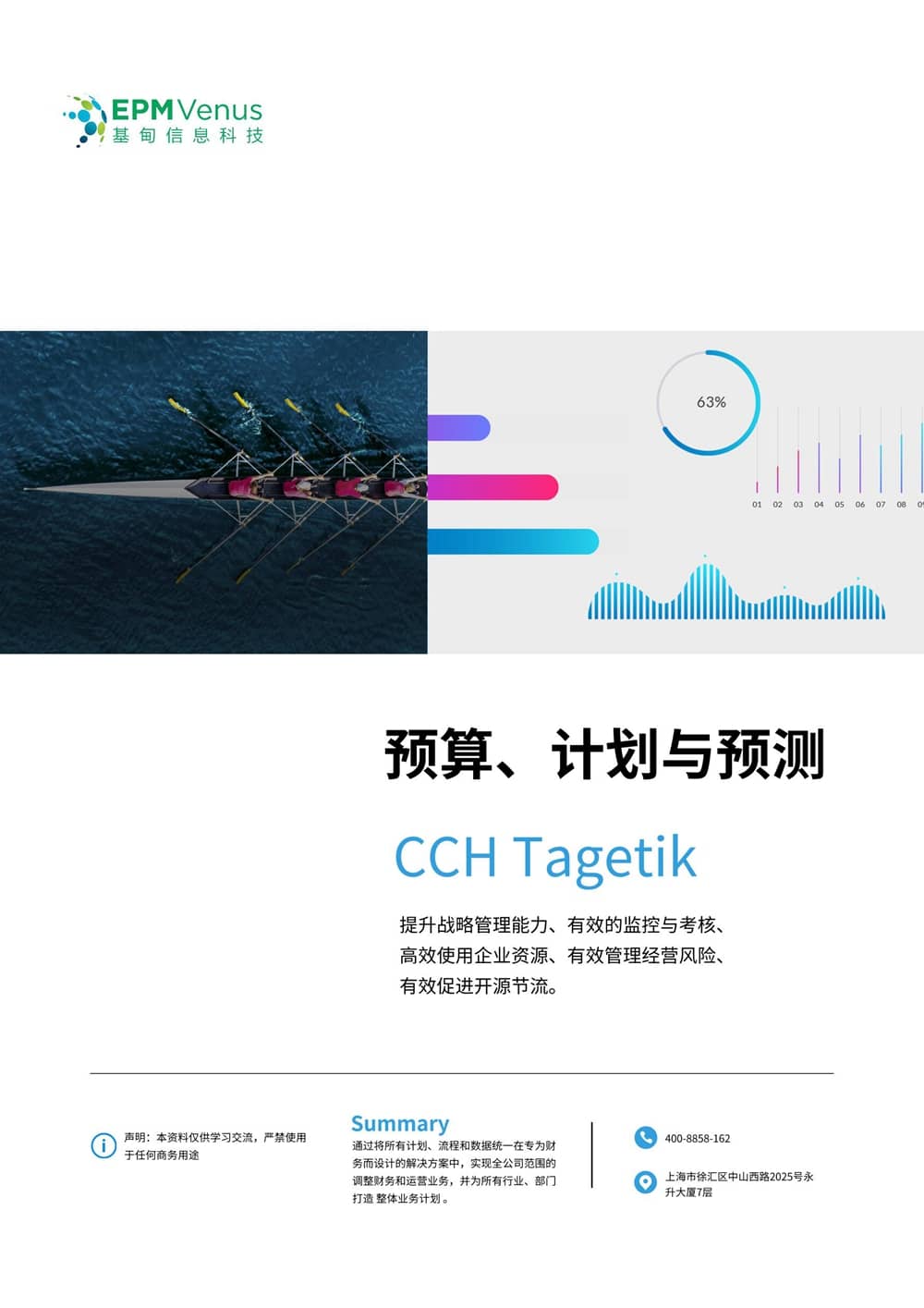 3 reasons why CCH Tagetik Budgeting, Planning & Forecasting lets you focus on your business
Speed up your reaction time and make faster decisions. Real-time driver-based simulations and built-in automation give you the flexibility to plan anyway, at any time.
Drill down into low-lying data and plan at any level using detailed drivers. With financial and operational information aligned and unlimited dimensions to explore, you can produce in-depth Profitability Analysis.
Better predict the future
Get more accurate forecasts and better predict your costs. Quickly process high volumes of data for use in artificial intelligence, machine learning, predictive planning and forecasting.
Budgeting, Planning and Forecasting demo
CCH Tagetik makes it easier to adapt to change by connecting all strategic, financial and operational plans in a single platform. By using our built-in financial and predictive intelligence, you'll spend less time collecting data and more time on analysis.
Get real-time visibility with intuitive dashboards
Planning for every industry and all your departments
Utilize unlimited dimensions to plan any way you need
Know your cash position with direct cash flow planning
Be more accurate with rolling and predictive forecasts